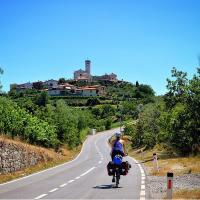 Tolmin - Nova Gorica – Cividale - Tolmin
The cycling route takes place along one of the most beautiful areas of Slovenia. The northern and eastern parts include the Alps with steep mountains, deep valley and magnificent emerald rivers, while the western part includes mountains and mountain reefs, such as Matajur or Kolovrat, with extraordinary panoramic views and western slopes, which slowly descend in the lowlands of the Natisone Valley. The southern part of the area offers cycling tours to various plateaus with brilliant views of the Alps and the whole Adriatic Sea. However, instead of that you may afford only to cycle through the vineyards of the Gorizia Hills. 
As a logical consequence of the open borders, specific cycling tours also pass in the Italian area, enabling the cyclists to experience and compare the Slovenian and Italian coffee on the same day, visit marvellous historic tows, such as Cividale del Friuli, and enjoy a real Italian ice cream.